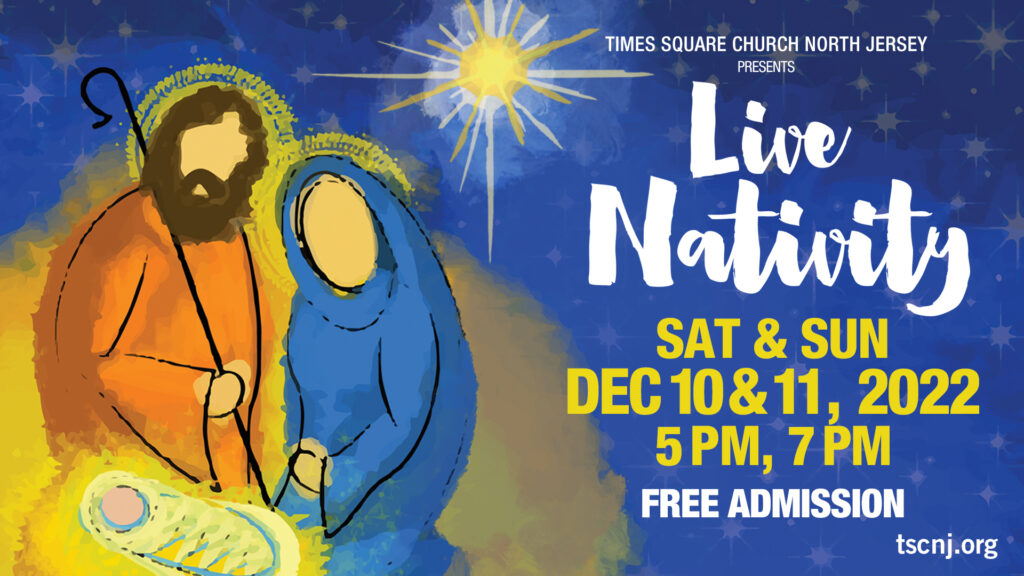 We are very excited to invite you to our annual Live Nativity event happening at the North Jersey campus.   We will have a show on December 10th at 5pm and again at 7pm, then again on December 11th.    Come out!  Bring a friend and dress warm!   
We would like to welcome you to the Times Square Church North Jersey Campus. We are so excited to have you with us and look forward to walking with you in the days ahead!
Our prayer for you is to know God's love, to know His heart for your family and to see the freedom of Jesus manifested in all areas of your life.
For more information about TSC North Jersey and campus updates, follow us on Facebook, and send us your preferred email address to northjersey@tsc.nyc.
As always, for any other details or questions you may have, please do not hesitate to reach out to us at 973.234.5849
We look forward to helping you in any way that we can.
Our Campus offers many opportunities to connect and be plugged in. You can join a Bible study, join an outreach team, or serve at the campus.
Pastor Brad Guice and his wife Lisa lead our campus. Pastor Brad and Lisa are longtime residents of Hopatcong and have been at Times Square Church for over 20 years.
If you live in Northwest New Jersey, there is a place for you at TSC North Jersey and we would love to have you!
Service Times
| | | |
| --- | --- | --- |
| Sunday | 10:00AM | In person or online at tsc.nyc |
| Tuesday | 7:00PM | Worldwide Prayer Meeting live-streamed from our Summit campus |

Location
Times Square Church North Jersey
450 Howard Blvd
Mt. Arlington, NJ 07856

Driving Directions
From I-80 take Exit 30, continue north up Howard Blvd for 2.8 miles. TSC North Jersey is on the right next to the Edith Decker School and across the street from Lee's County Park Marina.
Tim Dilena
Tim Dilena is senior pastor of Times Square Church. He is the third senior pastor since the founding of the church by David Wilkerson in 1987.


Brad Guice
Brad Guice has been the campus pastor and director of the Times Square Church North Jersey satellite campus since it was founded in June of 2011. Pastor Brad was born and raised in Orange, California. He graduated from the prestigious Art Center College of Design in Los Angeles in Photography. He came to NYC and became a world renowned award-winning photographer. He has photographed international and national Ad campaigns for some of the world's largest corporations, along with celebrities, and album covers.
Brad experienced a dramatic Born-Again conversion in 1991, when God instantly delivered him out of an extremely bad 10-year drug addiction. He has since served in missions traveling and taking photos in over 80 countries of the world. He authored a book, 'The CALL to Missions' with his photography, experiences, and testimonies of missionaries from around the world. Pastor Brad and his wife Lisa have been happily married since 1995, they have two wonderful children Phoebe and Parker. Brad and Lisa's first love is ministry and serving God! Brad's other interests are water skiing and snow skiing.


Lisa Guice
Lisa Peluso Guice was raised in Philadelphia, PA and spent her childhood in the acting world. By the age of 5 yrs. old Lisa had appeared in over 100 television commercials. By the time she was 12 years old she had an impressive resume under her belt including awards and a stint on Broadway, she landed her first TV soap opera, and added the iconic film 'Saturday Night Fever' to her credits, playing John Travolta's little sister. She spent 25 years in daytime television, best known for her roles on "Search for Tomorrow", "Loving", and "Another World.
Lisa came to the saving knowledge of Jesus in the early 90's around the time she met Brad and they began their relationship. They both volunteered in ministry and missions at Times Square Church and were married in 1995. They reside in New Jersey with their two children. They have both left their previous careers for ministry. Lisa and Brad have been the campus directors since its opening in 2011. There Lisa has been active in counseling, and instrumental in leading programs for the homeless, as well as the 'Strictly Young People' youth ministry.
Our TSC Kids program is available during our Sunday 10AM service. Children stay with their families for worship and then join the kids in the cafeteria for class in a Christ-centered environment where they are taught the Word of God in a way they can understand and get excited about!
The TSC Kids staff is invested in the spiritual life of your children and enjoy sharing and demonstrating the love of Christ. It is our goal to work alongside parents and guardians to help their children develop a personal relationship with God for themselves.
We are committed to these children, desiring to see each one trained up in the ways of the Lord.
We are committed to serve the one. Whether we have many or we have "one," we serve each child wholeheartedly (Matthew 18:10-12).
We are committed to seeking the Lord for His heart & mind for these precious children (Proverbs 16:3).