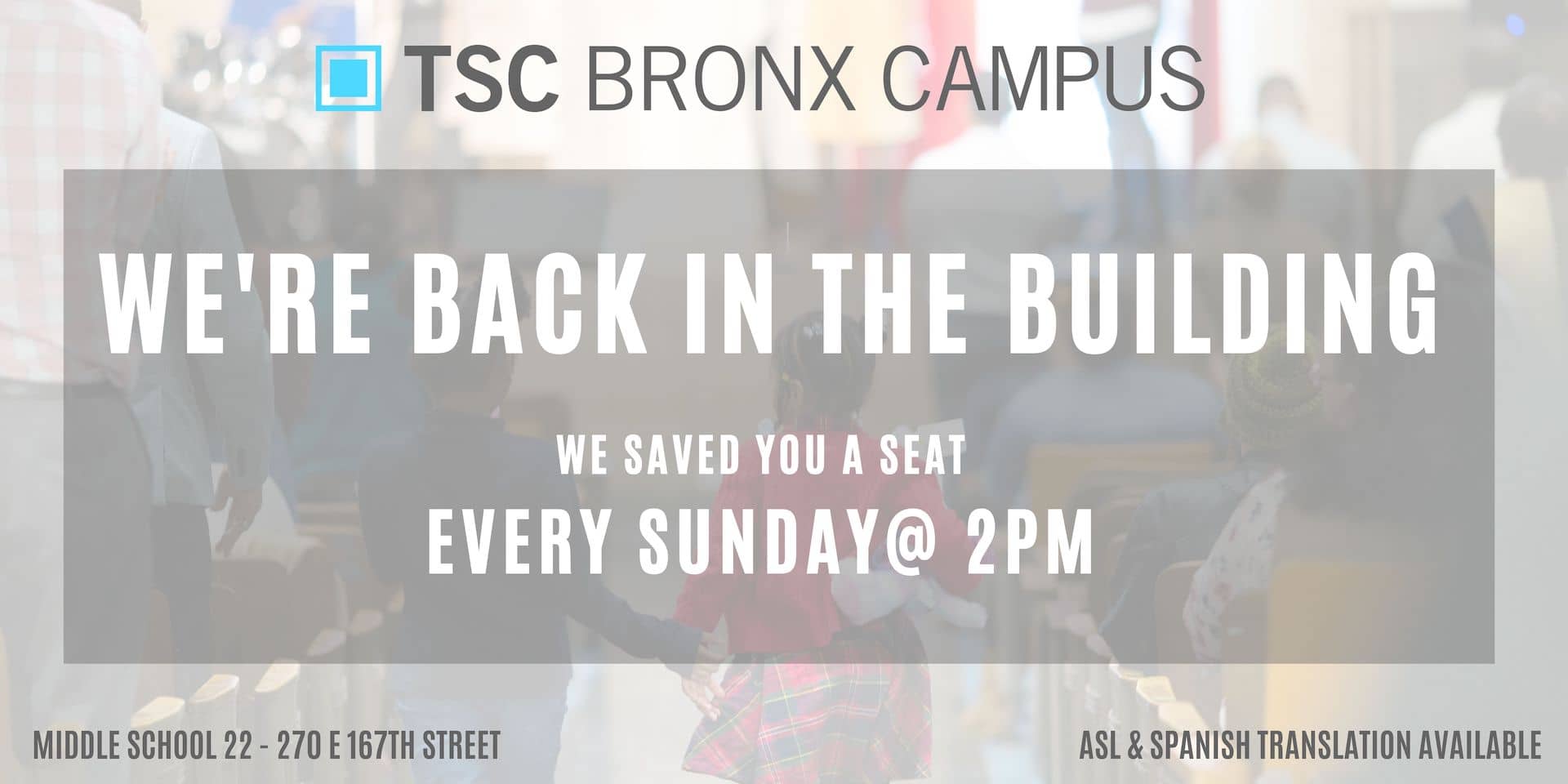 TSC Bronx is a new campus of Times Square Church located in the Bronx, with services taking place at JHS 22, the Jordan L. Mott School. We are a community of believers who desire to continually grow in our knowledge of Christ. We hope to offer an opportunity for people who currently attend Times Square Church to worship locally and to forge new relationships in the community.
Leading the new campus are Pastor Derik Griffin and Elder Victoria Griffin who have served faithfully at Times Square Church for many years. Born and raised in the Bronx, Pastor Derik and Elder Vicki have had a burden to share the Gospel and minister to the people in their community through numerous outreaches over the last twenty years and weekly prayer meetings at a local school.
TSC Bronx hosts two services weekly. Our services are on Sundays at 2 PM are in-person, and Wednesdays at 7 PM via Zoom.
All are welcome.
Visit Us
Location:

JHS 22 Jordan L Mott School
270 E 167th St, Bronx, NY 10456
Service Times:
Sunday, 2 PM
Join us for church online on:
TSC Bronx YouTube Channel
Facebook
Prayer Meeting:
Wednesday, 7 PM Prayer
Meets online on Zoom
Meeting ID: 674 466 483
Password: 841813
Dial-in: +19292056099,,674466483#,,#,841813# US (New York)
Location:
JHS 22 Jordan L Mott School
270 E 167th St, Bronx, NY 10456
Email: bronx@tsc.nyc
Web: tscbronx.org
*This activity is not sponsored or endorsed by the New York City Department of Education or the City of New York.
Tim Dilena
Tim Dilena is Senior Pastor of Times Square Church and its three satellite campuses, TSC North Jersey Campus, TSC Summit Campus and TSC Bronx Campus.
Derik Griffin
Derik Griffin is an Associate pastor of Times Square Church and serves as Campus Pastor for the TSC Bronx Campus.
Derik has spent most of his life in the Bronx and grew up in a home where drugs were the family business.  As a teenager, he made the decision to join the Army and when he returned home his mother introduced him to Jesus.  Derik tried to embrace his mother's new faith but was still drawn to his old life.  After almost losing his life and his family, he fully surrendered to Christ in 1996. 
Derik began attending Times Square Church in 1997, and has served as a missionary, teacher, preacher and youth leader ever since.  He served as support liaison for the 100 church partners of Feed New York, an initiative of Times Square Church that underwrites food assistance programs in churches throughout New York City. 
Derik has traveled around the world evangelizing and sharing the powerful testimony of his journey from the tough streets of New York City to the redemptive power of the cross.  His story has impacted the lives of many, but Derik has always been drawn back to his own neighborhood.  Since 1994, he has worked with youth and families in the Bronx through My Brother's Keeper, a non-profit, faith-based organization he founded with his wife Vicky, and has shared his story and the love of the Father, with young men who face similar struggles.  Derik is a living testimony to his community of the power Jesus has to transform  a life.
Derik was ordained as a pastor by Times Square Church in 2017.  He continues his work with My Brother's Keeper.  Derik is happily married to his beautiful wife, Victoria, and is a loving father to 7 children, and a proud grandfather of 4 grandchildren.
Victoria Griffin
Victoria Griffin was raised in the Bronx.  She was introduced to Christ at an early age at the storefront church her grandfather founded.  She attended that church for 30 years. 
Vicki started attending Times Square Church in 1997 and has served in various ministries. She left her nursing career in 1999 to join the TSC Music Ministry staff where she continues to serve as a worship leader. In 2002 she was invited to work with the youth and young adult ministry of Times Square Church, where she has served as Event and Outreach Coordinator and High School Ministry Leader. 
In 2014, Vicki was appointed Elder of Times Square Church, the first woman ever to hold that position. Whether she is praying for someone, counseling a student, speaking at an outreach, or leading worship Vicky's heart is to serve God with all that is within her. 
During all her years at Times Square Church, Vicki never lost her burden for her own neighborhood. She longed to see people in her community transformed by the Gospel of Jesus Christ. She and her husband Derik founded My Brother's Keeper, a faith-based organization that reaches out to youth and families in need in their neighborhood. Through this local ministry, Vicki and Derik have served their neighborhood hosting prayer meetings, basketball nights, a food pantry and community outreaches. 
Vicki has been married to Pastor Derik Griffin for over 25 years.  They have a family of 7 children and 4 grandchildren whom they love and cherish.
Our children's program is available during our Sunday and Wednesday services. Children join their families in the auditorium for worship and are then released to the cafeteria for class. Kids will enjoy a Christ-centered environment as they are taught the Word of God in a way they can understand and get excited about!
Children's Ministry 
Our classrooms are not merely childcare, they are places where we invest in the spiritual life of the children. Our volunteers enjoy sharing and demonstrating the love of Christ. It is our goal to work alongside the parents/guardians to help the children develop a personal relationship with God for themselves.
We are committed to these children, desiring to see each one trained up in the ways of the Lord.
We are committed to serve the one. Whether we have many or we have "one," we serve each child wholeheartedly (Matthew 18:10-12).
We are committed to seeking the Lord for His heart & mind for these precious children (Proverbs 16:3).